EDAG Group develops open source project
based on FIWARE.
In smart cities, interest in and awareness of open source projects has increased significantly. One of the advantages is that the source code is free of charge and openly accessible. As a result, if extensions or individual adjustments are made to the source code, everyone who uses the software benefits. As a result, new functions and innovations are available more quickly and security vulnerabilities are found earlier – according to the motto "public money, public code".
Instead of high licensing costs for proprietary software solutions and highly restricted rights of use, the processes and source codes are more transparent and the costs are lower. In addition, applications paid for by the public are accessible to all and do not have to be programmed from scratch.
FIWARE is one of the most important initiatives in the Smart City environment, both nationally and internationally, and offers a marketplace for scalable open source platform components and off-the-shelf platforms, as well as access to contextual information through open interfaces (APIs). This makes standardised Smart City solutions 'Powered by FIWARE' easily accessible, further developed and quickly implemented.
EDAG Production Solutions is a Gold Member of the FIWARE Foundation e.V. with the aim of promoting standardised Smart City solutions in the context of Smart City and Mobility and to scale them in the network of the FIWARE Community.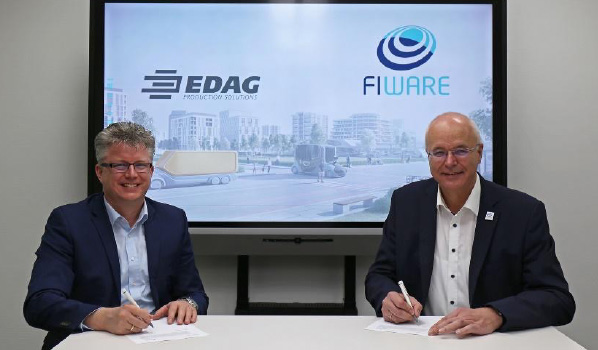 Ulrich Ahle (CEO FIWARE Foundation e.V.) and Dirk Keller (General Manager EDAG PS) sign the FIWARE Gold Membership in Fulda.
The FIWARE reference architecture provides a reliable basis for the Smart City data platform and topics such as the Campus FreeCity (BMVI research project) and the integration of OZG services into the Smart City data platform can thus be established.
With the help of the FIWARE network and the community, EDAG would like to implement joint projects with existing partners, but also with new companies, start-ups and institutions from science and research. The aim is to improve the quality of life of citizens with products and digital services and to build a digital ecosystem in the municipal environment.
EDAG will also appear as a FIWARE Community Member at trade fairs and conferences in the future, such as the Smart Country Convention in Berlin (18-20.10.2022) and the Smart City Expo World Congress in Barcelona (15-17.11.2022).

More information about the FIWARE Foundation e.V. can be found here.
Example projects and a detailed description of the use of FIWARE can be found here.
This might also interest you